We had a special visit from Sandra Levins of Iowa, one of our sponsors, who came with her husband to visit our school. They met Dulce, the student they have been sponsoring, as well as her family. Sandra shared a recap of her experience below. Thank you for your support and heartfelt words, Sandra!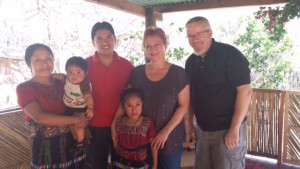 My grandson lives in San Marcos la Laguna, Guatemala and attends Escuela Caracol, an international Waldorf School. This is the only Waldorf School in Guatemala. Several months ago his mother shared a Facebook post with a link to the school's website at https://escuelacaracol.org/. After perusing the website we learned that over 85% of the student body at Escuela Caracol comes from indigenous Maya families who cannot afford the cost of tuition. My husband and I decided to sponsor a student. Only $30 a month covers tuition and a nutritious snack for one child. Our child is Dulce.
In February of this year, while on our annual trek to see our grandson, we visited Escuela Caracol. We were met by Joshua Wilson, Pedagogical Director, President and Co-founder. We were given a tour of the campus and were surprised to learn that the sixth graders were studying the Norse gods as well as Roman history. The classrooms were airy, bright and inviting.
Without a doubt, the highlight of our visit was meeting Dulce and her family. She was very shy. I had brought a few little gifts and she seemed embarrassed by all the attention. As Joshua translated, the family spoke about what our sponsorship means to them, stating that they would not be able to afford to send Dulce to Caracol otherwise. Her father said she attended the public school for a short while, but did not do well. She is excelling at Caracol and is now in the first grade. Their words were heartfelt. My husband and I were humbled.
To express their gratitude the family gave us a satchel made from the fiber of a certain plant that grows at the lake and was handmade by Dulce's grandfather who had recently passed away. This satchel was a family heirloom, and they gave it to us! Then, so my husband and I would each have a bag, we were also given a newly made satchel. Amazing is a word that is often overused, but these gifts of gratitude were truly amazing.
I assured the family that we would see Dulce through to sixth grade graduation. We posed for a few pictures and I held the baby for a bit. As the meeting came to an end, Dulce indicated she wanted to give us a hug. This most precious embrace – tender and sweet – was a gift from her own heart.
We have forged a connection that will never come apart.
Sandra Levins
Burlington, Iowa USA
0
0
f.pineda
https://escuelacaracol.org/wp-content/uploads/2021/07/logo.png
f.pineda
2016-05-31 12:59:25
2016-05-31 12:59:25
A special visit to Escuela Caracol