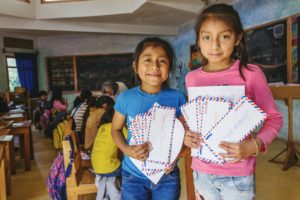 If you're old school and were part of a pen-pal program, you'll surely remember the excitement of writing a letter and sending it to someone far away, and the thrill of getting a response through the mail.
Something like that is currently happening to our third-grade group, that got enrolled in a pen-pal program with the third-grade students of Luis Horacio Gomez School, in Cali, Colombia.
This happened thanks to our dear Pedagogical Advisor, Gloria Elena Londoño, and to her sister and third-grade teacher of Luis Horacio Gomez School, Adriana Lucía Londoño.
Just before the holidays break begun, our third graders wrote letters to a previously assigned Colombian friend. All the letters were unique and special, the children wrote about the way we live in San Marcos la Laguna, the weather, the games they play, our school environment, and many other subjects chosen by our lovely writers.
Recently, Gloria Elena went to spend the holiday's vacations in Cali, once there, she played the role of Escuela Caracol's messenger taking these letters to our little friends. She entered the classroom dressed as a mailman, and while singing a beautiful song, she delivered the mail.
We are eagerly waiting for our messenger's return next January to read, with our Caracolitos, the responses from the Colombian third graders of Luis Horacio Gómez School.
Listen to the song, here.
0
0
f.pineda
https://escuelacaracol.org/wp-content/uploads/2021/07/logo.png
f.pineda
2019-12-06 20:04:16
2021-07-29 20:09:54
pen-pal friends