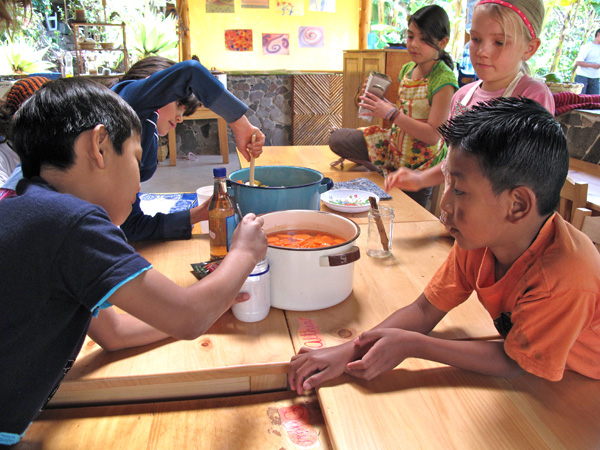 For the Waldorf student, music, dance, and theater, writing, literature, legends and myths are not simply subjects to be read about, ingested and tested. They are experienced. Through these experiences, Waldorf students cultivate a lifelong love of learning as well as the intellectual, emotional, physical and spiritual capacities to be individuals certain of their paths and to be of service to the world.
Developed by Rudolf Steiner in 1919, Waldorf Education is based on a profound understanding of human development that addresses the needs of the growing child. Waldorf teachers strive to transform education into an art that educates the whole child—the heart and the hands, as well as the head.
When you enter a Waldorf school, the first thing you may notice is the care given to the building. The walls are usually painted in lively colors and are adorned with student artwork. Evidence of student activity is everywhere to be found and every desk holds a uniquely created main lesson book.
Another first impression may be the enthusiasm and commitment of the teachers you meet. These teachers are interested in the students as individuals. They are interested in the questions:
How do we establish within each child his or her own high level of academic excellence?
How do we call forth enthusiasm for learning and work, a healthy self-awareness, interest and concern for fellow human beings, and a respect for the world?
How can we help pupils find meaning in their lives?
Teachers in Waldorf schools are dedicated to generating an inner enthusiasm for learning within every child. They achieve this in a variety of ways. Even seemingly dry and academic subjects are presented in a pictorial and dynamic manner. This eliminates the need for competitive testing, academic placement, and behavioristic rewards to motivate learning. It allows motivation to arise from within and helps engender the capacity for joyful lifelong learning.
The Waldorf curriculum is broad and comprehensive, structured to respond to the three developmental phases of childhood: from birth to approximately 6 or 7 years, from 7 to 14 years and from 14 to 18 years. Rudolf Steiner stressed to teachers that the best way to provide meaningful support for the child is to comprehend these phases fully and to bring "age appropriate" content to the children that nourishes healthy growth.
"When children relate what they learn to their own experience, they are interested and alive, and what they learn becomes their own. Waldorf schools are designed to foster this kind of learning."
—Henry Barnes, a longtime Waldorf teacher and the former Chairman of the Board of AWSNA
0
0
f.pineda
https://escuelacaracol.org/wp-content/uploads/2021/07/logo.png
f.pineda
2013-10-01 17:19:23
2021-07-29 20:10:11
What is Waldorf Education?