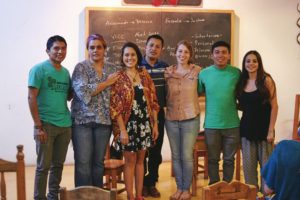 Asociación Caracol recently had its last Regular Assembly of 2020, where new members of the board were elected.
Asociación Caracol is the legal body that represents the interests of the Escuela Caracol community. It is formed by members of the community, friends of Escuela Caracol, school parents, and teachers.
During the last regular assembly, three of the members of the Association's board resigned their positions: Maria Eugenia Contreras as President, Enrique Perez as Vice President, and Martha Lynd as Alternate. Maria and Enrique served as President and VP for more than 3 years and in accordance with the Association's statutes, they have passed the baton to other members of the assembly.
Many members of the association were nominated to fill the positions. The new board members were chosen in a general election held during the assembly.
The new board is constituted by:
Luisa Larios – Alternate (New member)
Carmen Alvarado – Secretary
Colleen Donovan – Treasurer
Ignacio Porón – Vice-President (New member)
Diego Sacach – President. (New member)
0
0
f.pineda
https://escuelacaracol.org/wp-content/uploads/2021/07/logo.png
f.pineda
2019-12-13 12:45:17
2021-07-29 20:09:54
Asociación Caracol – New Board members where elected.