Our team of tutors has remained in constant training and activity since the restrictions started.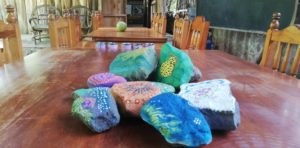 They gather in groups to study, take care of the gardens, or to get ready for that priceless moment we are waiting, when we will finally have our students back in the classrooms.
Our teachers have painted these rocks as a welcome gift for our students. They will be placed in specific places along the paths and trails to add color and magic to our gardens.