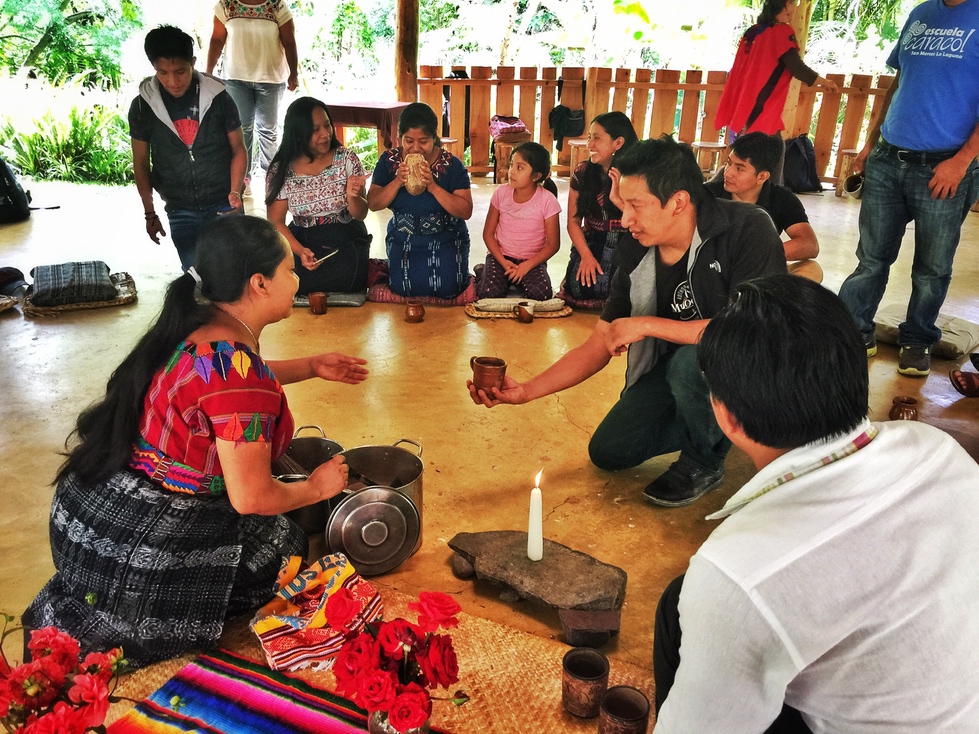 On Thursday, August 26, Escuela Caracol's staff gathered to celebrate a "Cacao Ceremony" were we shared a special moment and meditated about Escuela Caracol's current situation and future.
Interculturality is one of the main pillars of what we, as an institution, use as a base to nurture our students and community. Mayan Cacao Ceremonies come from ancient times, guided by the mesoamerican Wisemen. Its main objective is to re-connect the people with nature, with their insights, and with everything that surrounds them. Drinking Cacao in a proper concentration causes the body to find balance (blood pressure, relaxation, and sense of overall wellbeing are the most common effects), helping the person concentrate and achieve a more profound meditation state.
As an initiative of our Pedagogical Advisor, Gloria Elena Londoño, we held a special ceremony guided by Izaias S. Mendoza, a well known Mayan spiritual guide from San Marcos la Laguna. The objective was for our staff to re-connect with themselves, with their roots, and with the team. Escuela Caracol belongs to the community, and as a community, we are one; students, teachers, families, sponsors, donors, and neighbors, we are all part of the Escuela Caracol's family.
We are about to start with our end of the year fundraising campaign. 2020 has been such a difficult year for everyone and we might need more help than ever. We want to ask you for a special favor, be ready to be our ambassador sharing with your friends and family what we do and how we serve the community, this way we will bring more people to our community.
Please, enjoy the pictures and a short video from the ceremony.