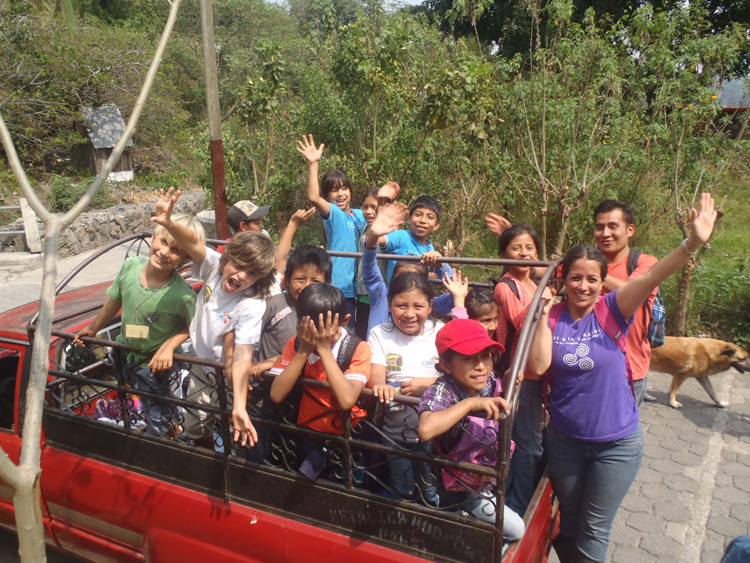 It all started about two months ago, when the group finished studying a block on Trades and Construction by building a rabbit hutch. It was at that moment that I felt the desire to take the students on an excursion out of school because they had demonstrated their maturity and their unity. They waited anxiously, counted the days, prepared songs and surprises, and finally the big day came.
At 8:15 a.m. on April 17, 2015  the children began to arrive, loaded with their luggage, food and supplies; such was the excitement that even rain couldn´t stop us! For most of the students this was the first opportunity to leave home and was definitely a big step of trust and belonging to the group. After lunch we were ready to go, along with teachers Gloria Elena and Ervin; there were mothers who came to say goodbye with tears of joy. The caravan caught the attention of everyone in the school; we left as our monthly market was in full swing in the front gardens of Escuela Caracol.
A pickup truck took us and our luggage; between tents and food it looked like we were going to be away for a week! When the pickup started, instantly there were cries of excitement and everyone began to sing a medley of songs we had learned together in class. Upon arrival, farm workers Juan and Nicolás joined us and helped prepare our home for the night. On one side, near the river and beds of organic vegetables, all the boys prepared their "palace" with Maestro Ervin.  They were surprised to see how big and beautiful their tent was and they felt proud and happy with the results. On the other side, closer to the main house, the goats and the chickens, the girls prepared their three small tents. In one were Maestra Gloria Elena, with students Adriana and Lydia; in the middle tent we were Yensy, Faviola and I; and in the bigger one, the rest of the girls.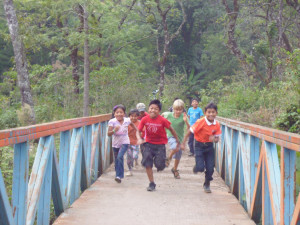 When everything was ready we met with Juan and Nicolás to find out what our jobs on the farm would be.  We spent the afternoon collecting eggs, transplanting lettuce shoots to beds and the most enjoyed by all, caring for and milking goats. At the end, we were ready to eat. The third grade class, Maestra Gloria Elena and I made dinner: we ate eggs, beans, fried plantains, pasta, tortillas, cheese, avocado, bread … and while this was happening, Maestro Ervin and some students prepared a fire for our long awaited bonfire and "Talent Night". Dinner was beautiful, everyone sat together and chatted while eating.
At about 7:30 pm, flashlight in hand, we walked to the fire site. Shad and Colleen joined us. This beautiful couple are the owners of Atitlan Organics, and Colleen is also kindergarten teacher in Escuela Caracol. The fire quickly ignited and so did our hearts. Zoe and Zoila sang a beautiful song written for the occasion. Roman and Gadiel told a joke and sang along to Jonatan who played the guitar beautifully. Clara also sang a song a cappella. All applauded excitedly. Then it was Maestra Gloria Elena´s turn, and she sang a beautiful tune while Jonatan played guitar. Kali also had a turn with guitar and Giulio gave us a beautiful surprise: three beautiful melodies playing the flute. There was laughter and joy when we ate "angels" (marshmallows). As we were trying to send up a paper lantern into the night sky, it began to rain. Just in time to go to sleep … or try to, because there was still plenty to talk about and do in each tent. The boys began to tell ghost stories and the girls to sing from tent to tent and tell stories. I'm not really sure what time we fell asleep, but this is also part of the adventure.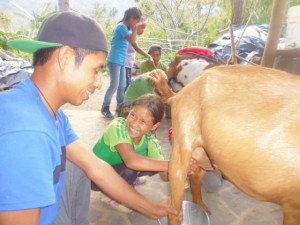 The first to wake up were Master Gloria Elena and I, and gradually all the girls appeared, commenting on the snoring, the noises and the situations that happened overnight. The boys were also very happy awakening.
It was the fourth grade class´s turn to cook breakfast; they made eggs with cheese, beans, fruit, bread, and tortillas. We ate and played hide and seek while packing up our bags and tents. We said goodbye to Colleen and the farm by making a circle and singing the song of friendship. All commented that they wanted to stay longer. It was a beautiful experience.
The return trip was also accompanied by songs and joy. But the excitement was not over when they arrived at school, because there the parents awaited us with a special welcome to the class. Applause and hugs as we entered the classroom, and the blackboard was decorated with the words "Welcome" and the names of all; at each table a delicious fruit cocktail, rice pudding and corn bread homemade. There were words of welcome by the father of Roman, who invited me to share something about our adventure, and we all ate together while we discussed on our beautiful camping trip.
Such activities help much to encourage unity and fellowship. They give courage and confidence to children, reinforcing their love and trust towards authority. The children had to overcome fears about spending the night away from home. Overall, it was a valuable learning experience full of joy and solidarity.
Written by teacher Andrea Arrivillaga
0
0
f.pineda
https://escuelacaracol.org/wp-content/uploads/2021/07/logo.png
f.pineda
2015-04-20 14:45:52
2021-07-29 20:09:59
Chronicle of Our Adventure: Camping Trip to Atitlan Organics, Tzununá