From the 24th to the 26th of February, We had the first round of 2020's grade meetings in Escuela Caracol, in which we had the participation of our Caracolitos' families. These meetings are the ideal moment for our families to be familiarized about what is currently happening in our school and about the students' development; these are also ideal occasions to clarify personal topics regarding the school, as well as to grow within the learning of the Waldorf Pedagogy and as a community.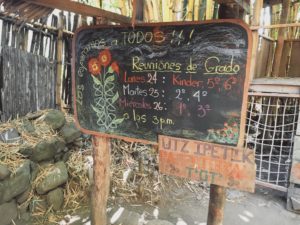 Very relevant subjects were covered during each of the meetings, that could be resumed as pedagogical subjects, general group subjects, and coordination and organization subjects for upcoming activities.
During each of the grade meetings, the teacher explains de spirit's and physiological's development of the group, as well as the pedagogical approach and the best academic contents regarding the current stage.
It is also common to have the teachers conducting rhythms that are usually performed in the classroom, and explaining the stage the group's children are currently crossing, and how this could bring special characteristics that can be perceived by the specific attitudes and conducts presented.
We deeply appreciate the constant commitment and support shown towards the school's labor. If you couldn't be present during your grades meeting, don't hesitate and schedule an appointment with your group's teacher to keep up to date, and don't forget, Escuela Caracol belongs to all of us!