Today we happily inform our community of the recent hiring of Viviana Contreras as our new Fundraising Manager.
We share a small text she wrote to present herself to the Escuela Caracol family.
---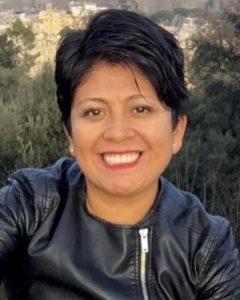 Hello! My name is Viviana Contreras. I went to Torrey Pines High School, San Diego California when I turned 15 years old and spend two years learning English. I have a Communications bachelor´s degree and a master´s in Politics and communication. My educational background has helped me shape my research interests and desire to continue understanding various aspects of my field. I am interested in the issues of education, nutrition, health and gender equity especially in the rural communities. Most of my experience is based on working for ONGS around the country on behalf of the most vulnerable people.
Over the next few years, I am hoping to engage and contribute in a valuable nonprofit where my knowledge will hopefully be a useful contribution to the development of the area, which is the reason why two years ago I moved to San Juan La Laguna with my 3 daughters. On my free time I like to run, practice yoga, swim, while I contemplate the volcanos that surround the beautiful lake Atitlan. I also love to travel and take the time to visit other countries when I have the opportunity.
---
Vivana, Welcome to our family!