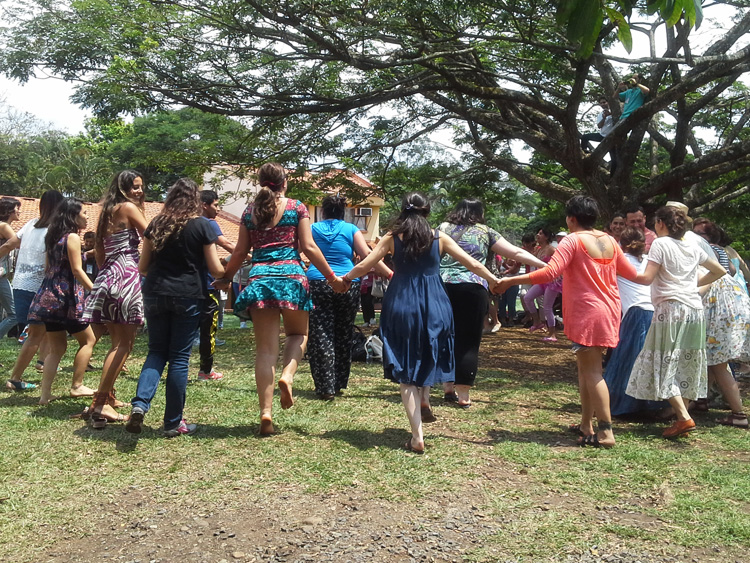 This year Escuela Caracol had the opportunity to be represented at the XII Latin American Congress of Waldorf Education, which was held in the city of Cali, Colombia, from 12 to 18 July. The congress is held every three years in different countries and schools in South America. Andrea, Maribel and Enrique shared their experiences in San Marcos La Laguna along with other 470 participants from all Iberoamerica. Being the only representatives of Central America, it was an extraordinary and outstanding participation.
We arrived at the school Luis Horacio Gomez on Sunday 12 July with excitement and expectations of what this meeting would be. With much surprise and joy we saw the facilities in this school that has existed for over 30 years. Every corner and every wall contains artistic details that show the love they put into this education.
There was a beautiful opening concert and welcome by the choir and orchestra made up of primary and secondary students at this school. At the end we attended the first conference on Inner Parth of the Teacher, taught by Florian Osswald, president of the educational section of the Goetheanum (anthroposophy headquarters in Dornach, Switzerland).
The work schedule for this week was intense but very rewarding, with activities from 7am until 9pm. During this time we attended artistic-educational presentations on the Tenth Conference of the Study of Man (Rudolf Steiner), by Colombia, Brazil and Argentina; We worked in small groups to deepen about the conference and presentation; had artistic activities and free enterprise initiatives as deepening in the teaching of mathematics in primary (Andrea), meeting of delegates from all institutions and/or initiatives of each country (Enrique and Maribel), and the presentation of Escuela Caracol at the Eurythmy Hall where we shared our story and presented the documentary; this activity was attended by over 50 people from all the countries represented at the conference. Each of us could participate in a workshop (Maribel: The Light of Kindergarten, Enrique: Modeling, Point and Periphery; Andrea: Transforming Difficult Dialogues), all based on the Tenth Conference and the inner journey of the teacher. Every night we closed with a conference with Mr. Osswald.
Coexistence with other countries and cultures was very beautiful, artistic performances we witnessed much cultural value, such as teachers of Cuzco, Peru; we were impressed. All meeting points allowed talks and exchange of experiences with fellow teachers and parents from Waldorf school of Latin America.
The closing ceremony was accompanied by a play on the history of slavery in the land and how black people came to inhabit this land, represented by Waldorf students. Also there were educational-cultural presentations, verses, rounds and dynamic artistic activities with an educational and cultural approach.
Humbleness, joy, peace and love was always present, available to all the organizers and teachers; the level of organization and knowledge is very high as the Waldorf Education and anthroposophy has been in South America for over 75 years, Argentina being the pioneer in the American continent.
This is and will be an unforgettable experience for the three of us, and we are very grateful for the support of:
Gloria Londoño Elena Valencia, our teacher and guide, who invited,  motivated and accompanied us in this conference.
Our colleagues from the Escuela Caracol for their support.
The organizers, the kneading group, Mario, Bettina, Luz Elena and Beatriz, who always supported us with communication before and during the event.
Mrs. Nana Göble and the Friends of Waldorf Education for their support.
Enrique and Silvia, founders of the school Luis Horacio Gomez.
Without them we would not have been able to attend this Congress that led  Escuela Caracol to share its amazing work in another corner of the world.
Andrea, Maribel and Enrique
0
0
f.pineda
https://escuelacaracol.org/wp-content/uploads/2021/07/logo.png
f.pineda
2015-08-19 13:57:06
2021-07-29 20:09:59
Memories from the XII Latin American Congress of Waldorf Education