Escuela Caracol was born as a Micaelic impulse of a young couple filled with "initiative and inner vigor"; at the present time, it keeps growing in the hands of a group of young teachers that look to offer this new pedagogical alternative to our and nearby towns, with the strength left by their momentum and their own successes.
Last Sunday, a celestial revelation appeared in the San Marcos la Laguna sky – it was the day designated to celebrate the archangel Michael – as an announcement of the festivity to come. Now this revelation which appeared on his day shows us the opening of a snail (spiral) that expands brilliantly in the sky, and "as in the skies, also on earth".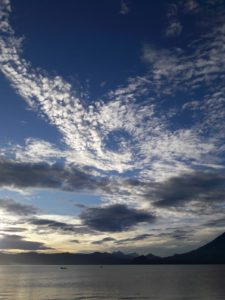 The meaning behind these festivities is exposed in the forcefulness with which the image portrays the balancing scale between compassion and steadiness on one side and the iron sword
of truth on the other. Scale and
sword have to live on in the imagination in the daily chores of a school that fights against laziness, fear, distrust, and intolerance; and that looks for the strength to keep developing towards initiative, creativity, and healthy coexistence.
The process of preparation for the small proofs of courage that the children experience attracts to the school, in the form of willpower, the grace that it brings to each of them, which is expressed in a force of will which is free, strong, and brave, and thus Michael ́s scale opens as a generous and protective cloth, and the iron of his sword glows in the blood of our school and screams:
here I am!
Gloria Elena Londoño Pedagogical Advisor. Escuela Caracol.
[ngg_images source="galleries" container_ids="16″ display_type="photocrati-nextgen_basic_slideshow" gallery_width="600″ gallery_height="400″ cycle_effect="fade" cycle_interval="2″ show_thumbnail_link="0″ thumbnail_link_text="[Show thumbnails]" order_by="sortorder" order_direction="ASC" returns="included" maximum_entity_count="500″]
0
0
f.pineda
https://escuelacaracol.org/wp-content/uploads/2021/07/logo.png
f.pineda
2018-09-27 17:49:31
2021-07-29 20:09:58
Michael, celebration of the powerful will