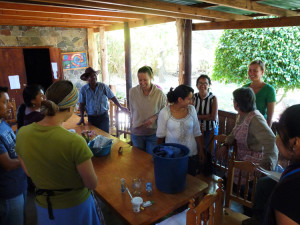 Since late 2014, Escuela Caracol has imparted workshops for families in our school community and residents of our village. Teachers, parents, members of the community and visitors have led workshops on a varied array of topics and skills. Towards the end of last year, we welcomed two visitors to our school. Genaro Vázquez led a workshop on Intercultural Education, while Ferdinand Vondruska offered an Introduction to Biodynamic Farming.
We also conducted a systematization of experiences process which culminated (for now) in the production of our documentary. This year, we continue to promote activities that bring our community together. Our first workshop, led by a mother of our educational community, taught us how to make homemade Yoghurt. Recently, our handwork teacher Nacho imparted a workshop on making crochet needles from the wood of coffee trees.
The families have shown their openness and willingness to learn. We are working to promote the growth of our community, assessing the most valuable and desired training options as we go along. We are confident that participation will increase exponentially, and more and more families will join us in this initiative. Together, we are creating the educational community we all want, one step at a time.
0
0
f.pineda
https://escuelacaracol.org/wp-content/uploads/2021/07/logo.png
f.pineda
2015-05-27 10:42:20
2021-07-29 20:09:59
Workshops at Escuela Caracol