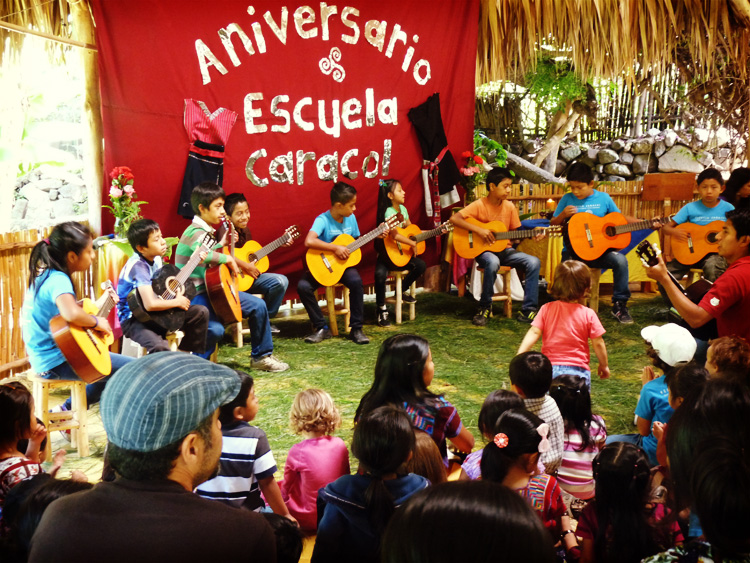 8 years have passed. Eight years filled with stories, examples and hope for this educational community on the shores of Lake Atitlan. Thanks to the efforts of Joshua and Courtney Wilson, founders of Escuela Caracol, and the dedication of all the professionals, families and students who have been part of our family, today Escuela Caracol is a model of educational renewal for the Republic of Guatemala.
To celebrate this special moment, we prepared an anniversary full of fun, entertainment and surprises. We started the morning by honoring our roots with a Mayan sacred fire ceremony. Ingrid Arévalo, Mayan spiritual guide and part of our educational community, led the offering. Thereafter all grades, kindergarten through sixth, presented to the audience their shows of art and movement in our palapa. Special mention for students in fifth and sixth grade, who received a standing ovation with their guitar playing.
Following the presentations we had a delicious snack. All families contributed with something to share in community, and our kitchen was commissioned to organize in order to serve all attendees. And after the delicious snack, which included toasts, beans, guacamole, hummus and pastries, it was time for family games, including a rally and a volleyball game between teachers and families.
Before leaving we celebrated our raffle, which this year was full of great prizes, all donated by teachers, families and local businesses.
The Escuela Caracol birthday is a very special moment, and every year we strive to celebrate it with great respect and dedication. This year the turnout was overwhelming, with many families comming to celebrate this special moment. How happy and thankful we are to be part of this great family!
0
0
f.pineda
https://escuelacaracol.org/wp-content/uploads/2021/07/logo.png
f.pineda
2015-06-24 11:06:15
2021-07-29 20:09:59
Celebrating our 8th Anniversary