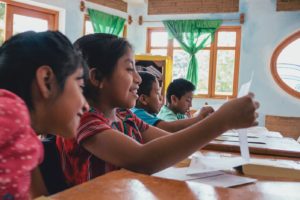 During last year's November, the group of Caracolitos that, back then, were in third grade, started a Pen-Pal exchange with the third graders from Luis Horacio Gomez School, in Cáli, Colombia.
The letters arrived and were received with joy by the group of Colombian students that almost immediately wrote the responses to be sent back with Gloria Elena Londoño, our Pedagogical Advisor, whom, at the moment, was visiting the mentioned school.
A few days ago, the Colombian letters were delivered as a surprise to our students, now, in fourth grade.
We want to share with you the pictures where you can see the thrill and happiness of each and all of them as they received the envelopes, signed and adressed by the sender, making of these objects, unforgettable and invaluable treasures.
Luis Horacio Gomez School is one of the oldest Waldorf Schools in Colombia and since the arrival of Gloria Elena Londoño, it has become a special part of our community that transcends borders and distance.
Want to become part of our community?
Don't hesitate and subscribe to our newsletter and follow our social networks.
You can also help us continue nurturing heads, hearts, and hands of Mayan children from Lake Atitlan by making a one-time donation or sponsoring a student, just follow the link below.
https://escuelacaracol.org/make-a-one-time-donation/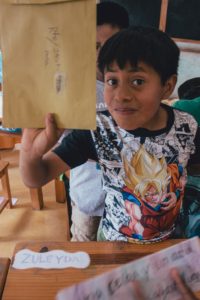 0
0
f.pineda
https://escuelacaracol.org/wp-content/uploads/2021/07/logo.png
f.pineda
2020-01-29 14:28:04
2021-07-29 20:09:52
Pen-Pal exchange with Colombia's Luis Horacio Gómez Waldorf School.